---
Ready, SET, communicate...Are we ready? - (Posted: 08/02/2019)
Southern New Jersey 2019 Simulated Emergency Test
Announcement
The Southern New Jersey Section is planning to participate in the National Simulated Emergency Test (SET) on October 5th. The Section-wide Simulated Emergency Test goals are to:
To discover the strengths and weaknesses of ARES, NTS, RACES & other groups proving emergency communications
To test the full range of systems under realistic conditions
To provide a public demonstration to served agencies Amateur Radio's value to public in time of need
To help operators gain future experiences using standard procedures and a variety of modes under simulated emergency conditions
With the help of the scoring system, compare performance with previous years and other groups to maintain continuous improvement
The SNJ Section SET objectives are derived from the 2019 Section Emergency Operations Plan "Potential Challenges" defined earlier this year.
---
Emergency Communication on HF using NVIS - (Posted: 08/02/2019)
Near Vertical Incidence Skywave (NVIS) is an operating strategy to use for high frequencies coverage ranging up to 500 miles. NVIS operating strategy is ideal for short range emergency communication when coverage area is beyond VHF capabilities. NVIS has been used for military operations for decades. It is used by the Military Auxiliary Radio System (MARS), and by many ARES/RACES teams to communicate within a Section, State, or region.
SNJ Section members have been researching and experimenting with the NVIS strategy to communicate among all nine counties. This article is designed to share some of the research and best practices learned from other efforts. Hopefully, it simulates you or your team to investigate NVIS.
What is Near Vertical Incidence Skywave (NVIS)?
NVIS strategy encompasses multiple antenna configurations that all radiate HF radio signals off the ground or other object to the ionosphere that reflects the signal back to earth within a coverage range of 0 to 500 miles. This article will discuss some of the NVIS antenna configurations and provide some other sources of information for investigation.
Why select NVIS strategy?
NVIS is selected as an emergency communication strategy for coverage up to 500 miles where VHF cannot be used because; 1) close to ground signal radiated to the ionosphere and reflects back to earth within a coverage range of 0 to 500 miles, and 2) signal to noise ratios are significantly lower than standard dipole antennas at normal heights above ground. This makes the NVIS strategy excellent for section or statewide emergency communications as used in Ohio and Western Pennsylvania. Experimentation has shown communication within the SNJ Section and with adjacent sections is possible using 80 meters during most times of the day. Digital has been found more effective than voices in that it requires less output power for emergency operations.
Four basic NVIS antenna configurations:
Low Level Inverted "V"
One antenna configuration that applies the NVIS strategy is an inverted "V" antenna mounted approximately 15 feet above ground at the center and 8 feet above ground on the ends of commonly feed 40- and 80-meter diploes. Both 40- and 80-meters dipoles are connected to common feedline and positioned perpendicular to each other at the center support as a means of ensuring mast support. Some installations have positioned the 40/80-meter diploes in the same direction achieving excellent result in the coverage ranges. There are homebrew and commercial versions, commonly referred AS-2259 NVIS Antenna, utilizing coils to allow operation within amateur frequencies rather than military.
This photo of WX2NJ's installation of a NVIS using 60- and 80- meter dipoles, construction details are within the 'For More Information' below.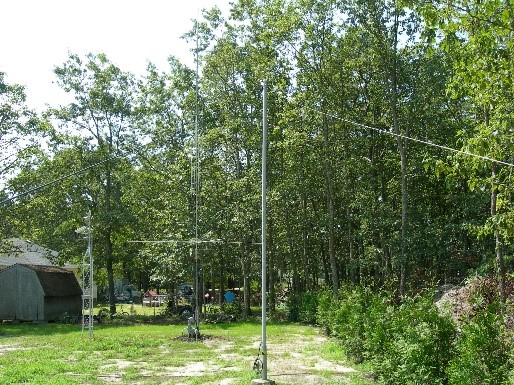 Chalk-Line Low Level
Another approach uses a ¼ wave long wire of approximately 70 feet for 80-meters wound up inside of construction chalk-line spool. (Irwin Strait Line #1932887 seem to be a good choice.) The chalk-line spool enables easy storage, installation, and transportation to remote sites, since a couple can be carried in backpack with the radio. The antenna length can be adjusted for different frequencies without using an antenna turner. One application of the chalk-line is a single ¼ wave long wire attached to a vehicle, using it as counterpoise connection to coax shield with the chalk-line element setup about 3 feet above the ground. The end is usually attached to piece of PVC pipe or another object. Reflective ties/flags are attached to the chalk-line element as a safety measure. The chalk-line installation can be set up in a few minutes. The antenna configuration achieved excellent communications within 0 to 500 miles using 5 to 20 watts of power, ideal for emergency operations.
This photo shows NJ2N's installation of a "Chalk-line 1/4 wave NVIS used for 80-meters that could be shortened for other frequencies with a few turns on the chalk-line spool.
image2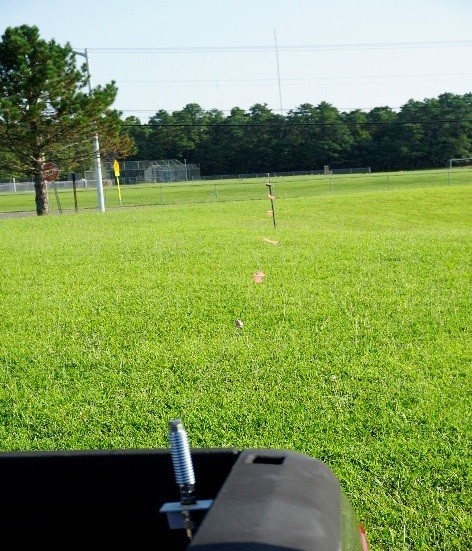 When a vehicle is not available of the counterpoise, especially in portable locations, two chalk-lines can be interconnected forming a dipole antenna mount about to 3 feet above the ground. Similar performance results have been achieved with the chalk-line dipole as other NVIS designs.
Low Level Long Wire
An approximate ¼ wave long wire of approximately 70 feet for 80-meters strung from vehicle antenna mount out about 70 feet about 3 feet above the ground also provide an excellent NVIS antenna. It is easily installed and provides excellent operating performance within 0 to 500 miles.
This installation by WX2NJ's uses the vehicle as a counterpoise with the element resting on an insulator as it is positioned for operation.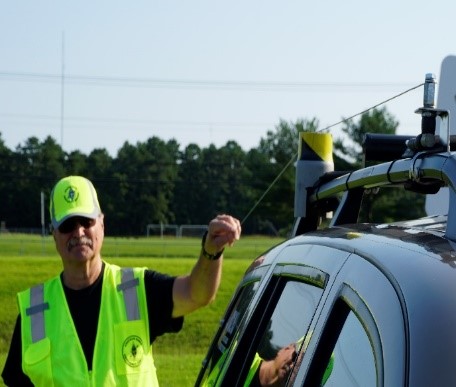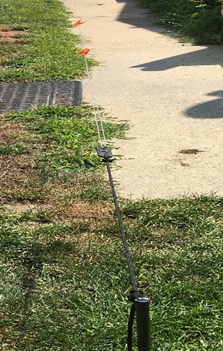 Tilted Vertical
A tiled vertical antenna NVIS approach, used by military, was tested by a SNJ Section ham. This approach consists of a tilted over vertical antenna to a 45 or less degrees position off the back of a vehicle. The antenna reflects the signal off the ground skyward. The tilted vertical is extremely easy to setup in a very short time. The installation operating performance tests have proven positive for communications within the 0 to 500 miles range. While signal strength levels from the tilted vertical were slightly lower than the prior applications of the NVIS Inverted "V", Chalk-line, and Long wire.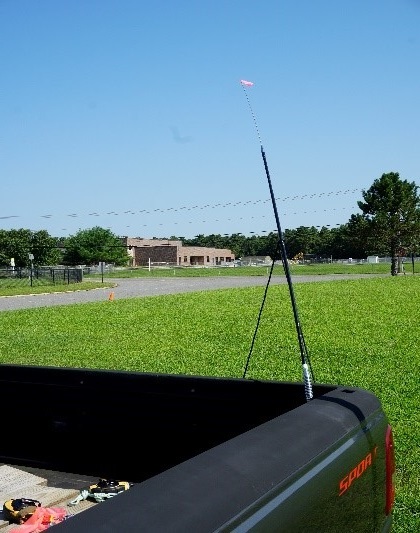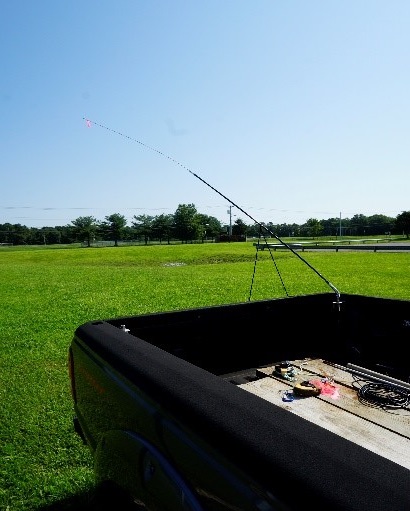 The photo the mobile vehicle tilt over technique, test by NJ2N.
If you interested in more information about NVIS strategy for use of HF coverage within 0 to 500 miles that is beyond VHF coverages investigate and experiment.
For more information:
Thank you to the following for assisting with the article WX2NJ, NJ2N, and N2RPQ, plus the following for assisting the testing NVIS applications KB2RUV, NJ2N, WX2NJ, K2HVE, N2LD, and N2XW.
---
Southern NJ Training Team Completes Their EC-001 Pilot Class - (Posted: 07/25/2019)
By Rick Kennard, N2RPQ
The Southern NJ Training Team recently completed their EC-001 pilot class. Nine students attended the initial classes. All the students earned their EC-001 certification.
The classroom version of EC-001 takes the online material as its base and uses the instructor's knowledge of the subject along with their personal experiences to elaborate on each topic. It was designed for those who prefer the classroom environment over that of online training. The initial pilot class was held over 5 nights with the first 4 being instruction and the final night being the testing. We anticipate adjusting this schedule now that the pilot class has shown us where we need to expand or condense certain topics.
The team is planning on hosting additional course in different areas of the Southern NJ section in the future. We would like to thank the Ocean County Sherriff's department for graciously offering their Emergency Operations Center Training Room for us to conduct this class.
The team is additionally just completing the curriculum for EC-016. In the near future we plan on holding a pilot class for that program as well.
For information on either of the classes please contact Tom Devine, Section Emergency Coordinator at WB2ALJ@arrl.net.
Please join me in congratulating our graduates!
Roger Ding, KD2FDT
Pete Genneken, K2PSG
Paul J. Hansen, N2QXB
Robert Murie, KD2QEA
Jan O'Malley, KC2JBT
George Oliver, NC1A
Eric Schwab, K2EDS
Tim Tonnesen, NJ2N
Michael D. White, K2MDW
The current SNJ Training Team consists of:
Tom Preiser, N2XW
Tom Devine, WB2ALJ
Rick Kennard, N2RPQ