---
PRESS RELEASE: 11 Southern NJ Clubs Prepare for Field Day - (Posted: 06/13/2019)
Amateur Radio Field Day is a showcase for how Amateur Radio works reliably under any conditions from almost any location. It is a national event that many amateur radio opeerators attend to test their capabilities, practice their skills, and yes, show off what amateur radio can do!
In the Southern NJ Section this year we currenlty have 10 clubs who are preparing for this big event:
Alantic County ACORN, 365 South Main Street, Pleasantville, NJ - Talk-in: 444.350 PL 107.2 (KC2VSK)
Audubon Amateur Radion Club, 875 Erial Road, Blackwood, NJ (K2AUD)
Burlington County Radio Club, 134 New Road, Tabernacle, NJ - Talk-in 147.15+ PL 127.3 (K2TD)
Cape May County Amateur Radio Club, 355 Courthouse South Dennis Road, Cape May Courthouse, NJ Talk-in 146.610 - PL 88.5 (N2CMC)
Delaware Valley Radio Association, Mercer West Picnic Area, Paxson Ave, West Windsor Township, NJ Talk-in 146.670 - PL 131.8 (W2ZQ)
Gloucester County Amateur Radio Club, Gloucester County 4H Fairgrounds, Mulica Hill, NJ Talk-in 147.180 + PL 131.8 (W2MMD)
Jersey Shore Amateur Radio Society, Riverwood Park, Toms River, NJ Talk in 146.910 PL 127.3 (NJ2AR)
Old Barney Amateur Radio Club, WYRS/SJDXA Site, Murphy Drive, West Creek, NJ (N2OB)
South Jersey Radio Association, Marlton, NJ Talk-in 145.290 - PL 91.5 (K2AA)
Southern County Amateur Radio Club, 5503 English Creek Avenue, Egg Harbor Twp, NJ (K2BR)
The David Sarnoff Radio Club, Princeton Red Cross, 707 Alexander Road, Princeton, NJ (N2RE)
If you have never been to a Field Day event (whether or not you have an amateur license) it is an event that can teach you a lot. Support your local club and come out to see us!
---
ARES Leader Points Out Problem with the FC-270 Portable Communications Unit Design - (Posted: 06/06/2019)
The following article was written by Robert Murdock, WX2NJ - Ocean County ARES Emergency Coordinator:
Model FC-270 Portable Communications Unit - Concerns

In 2009, I was first exposed to several portable communications units (FC-270) at Community Medical Center in Toms River, New Jersey and Brick Medical Center in Brick township, New Jersey. The units contained a Kenwood model TM-V71 transceiver and Astron model SS-18 switching power supply in a rugged self-contained enclosure. Ocean County ARES was made aware at that time that this type device was being supplied to most New Jersey hospitals as part of a state grant.

Ocean County ARES was contacted by several hospitals in Ocean County to assist in setting the units up for operation and in 2009, I worked with a Mr. Neil Bryant of St. Barnabas Emergency Management in obtaining programming software from Kenwood and assembled a program of the most popular 2 meter and 70 cm frequencies in the Ocean County area. Mr. Bryant also obtained several programming cables and loaded the program into communication units at Community Medical Center, Brick Medical Center, Southern Ocean Medical Center, Ocean County Health Department and Health South Rehabilitation Center.

The unit from Ocean County Health Department was introduced to the Ocean County ARES operators at a general meeting in 2009. One observation that was made during the presentation was that the Kenwood transceiver was powered via a cigar outlet on the back of the unit. Running the transceiver at full power caused the transceiver to "reset", probably from low voltage. This concern was passed on at one of the state RACES symposiums in Trenton by WX2NJ, who was able to attend one of the sessions due to a substitution of a regular county member.

In October 2012, following the annual Ocean County SET, WX2NJ was contacted by Mr. Patrick Gildner of Southern Ocean Medical Center (SOMC) to discuss operation of the FC-270 units at the hospital by Ocean County ARES members. It was observed that SOMC had two such units and WX2NJ illustrated to Mr. Gildner the power plug design deficiency and asked if Ocean County ARES could take a unit for testing and modification.

On October 16, 2012, WX2NJ took possession of Model FC-270, Serial UJ026/76. Inspection of the label on the rear of the unit indicates the following:
Model FC-270
Serial UJ026/76
Contains Kenwood TM-V71A S/N 00400101
NJDHSS 2008 Regional EP Grant 26 of 76
For Sales and Service Contact:
Pagecom, LLC
East Brunswick, NJ 08816
(732) 698-0808
Proudly Assembled in the USA

The front and rear panels were removed from the case and displayed for a photo to record the as-found condition of construction. Digital voltmeters (Fluke 189) were connected across the power supply output and the positive side of the cigar plug. The transceiver was keyed and transmitted into a dummy load on 146.520 MHz (simplex) at high power. It was found that the cigar plug was dropping at least 1 volt. The power supply output was approximately 13.8 volts DC at high power, but the transceiver was only being supplied with 12.8 volts DC. As the cigar plug was manipulated, the voltage drop increased and varied considerably. In high power the Kenwood transceiver draws approximately 13 amps and most cigar outlet are only rated at 7.5 amps. Apparently, the builder/designer of the unit provided a cigar plug/outlet to allow the user to connect the transceiver to a vehicle should the need arise.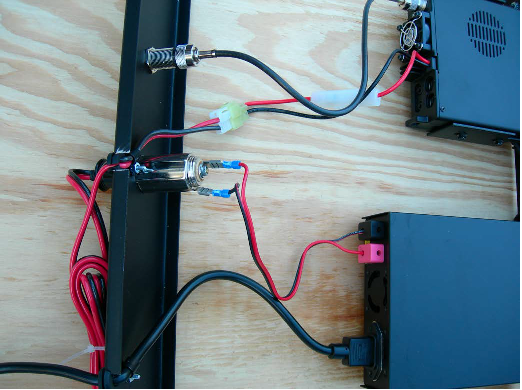 As-Found condition of serial UJ026/76

Additionally, the wire between the power supply and cigar outlet was AWG 18, which is not rated for 13 amps.

To remedy the situation, WX2NJ drilled a 7/16 inch hole in the back panel, just to the right of the cigar outlet and installed a vinyl grommet. A separate power lead was connected to the power supply outlet, consisting of AWG 14 wire, passed through the grommet and terminated with an Anderson Powerpole 30 amp connector. The lead to the cigar plug was cut and another Anderson Powerpole 30 amp connector was installed, which would lead to the transceiver. See As-Left photo below.

A voltage drop test was once again performed and with the transceiver transmitting at high power, a maximum voltage drop of 0.07 volts DC was observed between power supply and transceiver. Essentially, the transceiver was now receiving the full 13.8 volts DC from the power supply.

An additional Anderson Powerpole 30 amp connector was installed on the pigtail end of the cigar plug, that was just cut. This cigar plug could be used to power the transceiver from a mobile, should it be needed, by unplugging the power supply Powerpole and connecting the cigar plug assembly.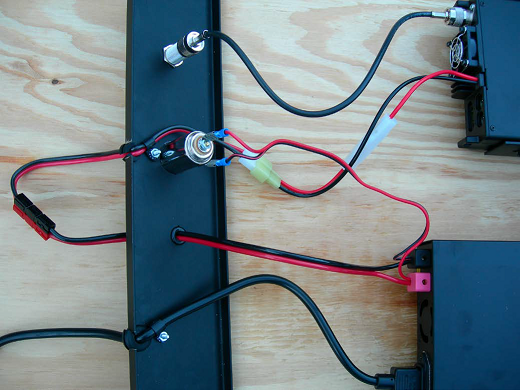 As-Left condition of serial UJ026/76

The cigar socket was left energized with the existing AWG 18 wire in case some small accessory was needed. The cigar plug was also found to contain a 10 amp fuse and would probably blow if the radio was used on high power for extended periods, so a medium power level is maximum recommended while operating via the cigar plug.

Ocean County ARES is concerned that the remaining FC-270 units in the various hospitals throughout New Jersey may have compromised operation at high power due to the way the units were designed/constructed. Continuous operation at high power during an emergency could result in overheating of the cigar plug/socket. A second FC-270 at SOMC was modified on October 19, 2012, serial UJ066/76.

Update as of October 10, 2018

Received two units from CommunityMemorial Hospital via Kelley Esposito, Serial numbers UJ012/76 and WL038/042. Both were obtained to perform pro bono modifications by Ocean County ARES for Community Medical Center. Both were satisfactorily modified with Powerpole connectors and the cigar outlet was left in place in case it is to be used to power an accessory. The only change from the above document is that a 0.90 inch hole was made in the back panel versus a 7/16 inch hole so the Powerpole could be passed through the panel, if desired.

One note of interest is that on serial number UJ012/76, the existing red (positive) lead on the power supply connection was so loose it literally fell out of the terminal block.

Both units were updated with new repeater frequency listings for Toms River and Manchester. Both units were checked for full power output and found to be sat.

Robert J. Murdock Sr., WX2NJ
Ocean County ARES EC
---
DVRA Antenna Committee to hold construction event on June 8 - (Posted: 05/31/2019)
The DVRA Antenna Committee was formed to focus on the design, construction and installation of amateur radio antennas for club members. The two goals of the antenna committee are to hold antenna construction events and to assist club members with antenna projects.
The next construction event will focus on elevated vertical antennas and will be held on Saturday, June 8th at 1pm at the DVRA's club station. Construction and testing of a 20 meter vertical ground plane antenna will be performed. If time allows, a portable 20 meter fishing pole antenna will also be constructed.
The rain date will be on Sunday, June 9th at 1pm. Any postponement announcement will be made on the "W2ZQ Membership" Google Group forum.
Contact Greg Mauro at k3ea.dx@gmail.com if you wish to be on the committee, if you need help with an antenna project, or if you have any questions, project ideas, etc.
The Delaware Valley Radio Association is one of the nation's oldest radio clubs, having been founded in 1930, and is a non-profit 501(c)(3) organization devoted to the promotion and preservation of the amateur radio hobby.
For more information and directions, please visit w2zq.com.